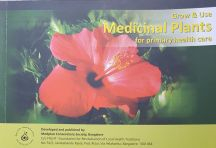 Medplan Conservatory Society (MCS), Bengaluru
We depend upon plants for our health care to a large extent. By spending their lifetime, our ancestors have found out and documented the healing properties of various plants growing in the neighbourhood. This cumulative knowledge has been meticulously passed on to generations through oral and codified traditions.

We are fortunate because we are present custodians of this collective wisdom. Different communities of India now know the use of more than 7,500 plant species (out of rich flora of India with about 8,000 botanical entities) to treat various ailments. It is our responsibility to maintain this invaluable knowledge treasure and ensure its transmission to our next generations.

We should accept the fact that the best quality medicinal plants are those derived from a home garden. They have a time-tested potential to provide a ready-at-hand solution to many of the primary ailments or health disorders.

Therefore, this book explaining common health problems and the use of 40 plants in their treatment is a welcome publication from MCS. The guide contains colour photos of 22 plants for easy identification.

The plants selected by us to grow in our "home herbal garden" should be native to our area. This guide provides description and uses of 40 different herbs, shrubs, climbers and small trees from which we can select plants suitable to our locality and needs.

It may be noted that Medplan Conservatory Society (Address: 74/2, Jarakabande Kaval, Post Attur, Via Yelahanka, Bengaluru 560106, email: medplan@frlht.org) is engaged in activities to spread information and generate awareness about the Traditional Healthcare. Accordingly, it has brought out many books, booklets, User Guides, Poster sets, CD-ROMs, DVDs, Magazine and other educational material in English and Vernacular languages.